Well after a glorious summer we had our last match on the IOW on a day which began with pouring rain and a chill in the air. The journey down to Portsmouth for the ferry was awful, but once on the island things began to clear up a bit. We were made most welcome by the IOW Captain Kate Palfrey and her team and although we started out on the rather wet Cowes course, with our umbrella's up, by halfway it was clearing and we finished in lovely warm sunshine. The sandwiches and chips afterwards were, however we unfortunately lost the match 3½ to 1½ This was a disappointing way to end a really very good season. Notwithstanding that, we had a good day out and here is a photo of the team at Cowes: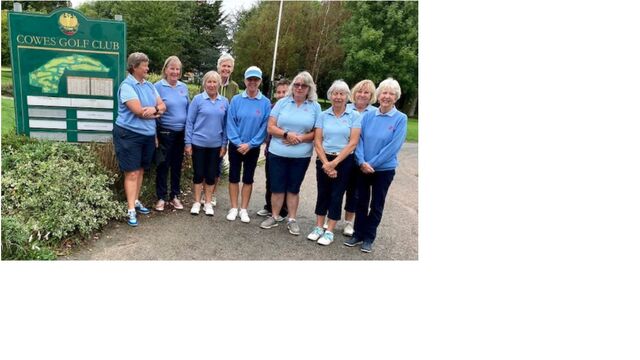 Overall, this year, we have won 4 of our matches and lost 2; so not a bad result. With this I bow out, having taken over the Vets captaincy just before Covid struck us, it is nearly a three-year stint, although the first year was all about cancellations rather than golf! I have had a really enjoyable time being Captain of the Vets and would like to thank all of you for the terrific support you have given me throughout the three years. It has been a pleasure getting to know so many new people and playing lots of different golf courses. I would like to wish my replacement Allena Doley all the best for 2023 and hope that she will pick me for some of the matches next year as we have some great venues to visit.
Thank you all again.
Sue Gale
HLG Veterans Captain